So today was pretty special: the first flight of the Boeing 787-10 Dreamliner, a miraculous feat of engineering and imagination. We were out at the airfield with colleagues from the Coastal Community Foundation, rubbing elbows with . . . well . . . everybody.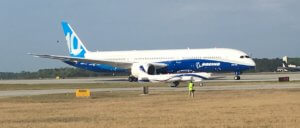 Senator Lindsey Graham was there, along with business and nonprofit leaders from all over the community. Fittingly, the biggest group of all was the men and women who built the sleek, new bird. So that's what we mean when we say "everybody." It was magical.
Welcoming guests to the celebration, plant executive Joan Berry Robinson warmly noted: "Welcome to Boeing, welcome to your house. All of Charleston made this day possible."
And that's what we love about Charleston. It's a real community. And it's one we are proud to call ours.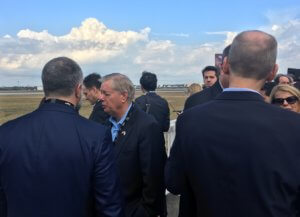 So what's it like to live in a place that attracts so many? (i.e. this weekend alone we will welcome tens of thousands of out-of-towners for a flower festival, a national 5K across America's most beautiful bridge, and countless other celebrations.)
Here are our top 5 "Charleston Love" Notes: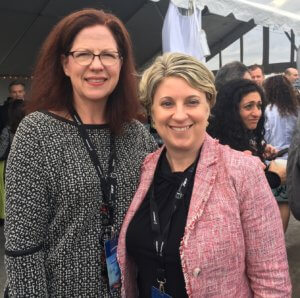 First of all, despite dozens of new residents arriving or being born here DAILY, it still feels like a small town. Live here long enough, and you will inevitably run into friends old and new while walking downtown, running an errand (note: always prepare for a chance encounter, lest you be caught in your Sunday worst), or dining out.
Secondly, with just a bit of effort, you can truly feel a part of this community's fiber. In Charleston, people welcome others who want to make this place even stronger. As a result, our robust non-profit community benefits from new ideas and energy as volunteers and board members come together in beautiful ways.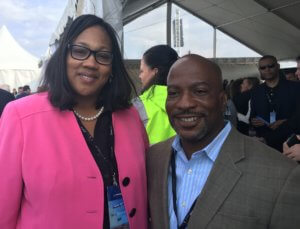 Thirdly, it's pretty on the inside, too. We know Charleston oozes charm. But beyond the beauty of Rainbow Row and moss-cloaked Live Oak trees, we see beauty in the people. Strangers acknowledge one another on the streets with a polite hello or wave. Virtual strangers take our calls in an emergency, and offer help. (Try organizing an event in 24 hours in some other place! We've done it here, and it truly takes a village.)
Fourth – We're a hungry bunch, and this town feeds our many appetites. First, the food is amazing. But there's also the cerebral nutrition in the form of art festivals, concerts, galleries and more. We are strengthened when we watch amazing athletes, artists and others soar to new heights in the Holy City.
Fifth: it's home! Our motley crew has migrated to Charleston from Texas, New York and Hawaii. But each of us has found a home right here in the soft loam of the Lowcountry. How do we know this is home? Because pluff mud smells good (to us); because we know how to coexist with noseeums; because we can argue for an hour about where to find the best biscuit in town.
And we know this is home because when that gorgeous plane took off today, our hearts soared.