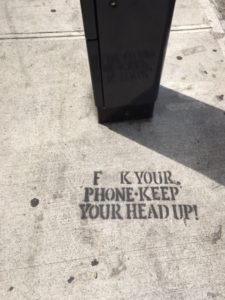 Our friend, Rick Jones (Fishbait Marketing) has lots of great sayings, and one that strikes us as most pertinent these days is: the Good Lord gave humans two eyes, two ears and one mouth –and we should use each accordingly.
Or put another way – shut up and pay attention.
What has us thinking of this happens to be a cascade of recent meetings that had prospective or new client partners bemoaning past relationships with firms that just "didn't listen."
We are big believers in the power of patterns, and this one is proving to be persistent. And we think we know what's going on here. There are cultural and business trends afoot that prompt professional communicators to spend more telling than listening and watching.
Business is good! For many fortunate folks, there is an abundance of opportunity these days. Faced with a surplus of clients, it can be challenging to remain fully present. But we must. Few clients appreciate being "templated. They seek unique, meaningful solutions to their challenges. And those come from really leaning in.
We're so smart, we're getting dumb. That's right, we are all so incredibly plugged in and up-to-date that we are failing to pick up our heads and look around. We seek the Googleable, the benchmarked, the "proven." And that means we sometimes fail to think anew as often as we should. Not all answers lie within our past successes.
We are possessed by our technology. Email is easy. Texting is fast. Analytics are sexier than gut instinct. But we fail our clients when we fail to pick up the phone or hop on a plane (heck, to even drive a few miles!) and check in with them. Truly immersing ourselves – physically – is one key to "getting" what clients are doing.
Listen for what's not being said. Sometimes clients are completely forthcoming. They tell us what they need. They ask us for more engagement, more care. We professional communicators fail when we brush off these approaches. Listening is about more than hearing, and seeing is about more than vision. Absorbing intent and taking action – that's the sweet spot.
Admittedly, we sound a little preachy here. And we must also acknowledge that we don't always get it right. It's easy to get swept up in the current of "now" and forget to connect, collaborate and conjure. We appreciate the times client partners are willing to let us know where we fall short.
So how are you engaging – and are your teams trained to really listen, look, and repeat?
Have you noticed a similar pattern lately? We'd love to hear from you!