Yesterday, we had a group visiting our office, borrowing a conference room for a planning meeting.
You know how it is at home, when you have guests? You suddenly notice the dust bunny in the corner or the scuffed paint?
Well, we felt the same exact thing yesterday, with this extended guest visit. As they met in the room behind me, I noticed something I often don't: we Touchpointers are pretty vocal people! And I started to worry about our productivity. Did we seem unserious to others?
I'm not saying we were hosting a party in the office. We weren't telling raunchy jokes (not this time!) nor reciting long lists of rules. We were chattering amongst ourselves. If somebody had diagrammed our conversations yesterday afternoon, they'd have revealed a nearly constant, zig zagged pattern of speech ricocheting from one desk to the other and on and on.
And then I focused on the most interesting thing: we were working hard the whole time.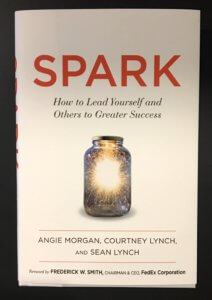 It got me thinking about professional kitchens and effective sports teams. In both of those cases, teammates communicate with one another constantly. In fact, there's all sorts of evidence to support that high performing teams get that way by communicating. A lot.
Our friends at LeadStar recently wrote Spark, How to Lead Yourself and Others to Greater Success (Houghton Mifflin Harcourt). It's a great read: so great, everybody here is book clubbing it, and we're sharing it with anyone who wants to join our Word Nerd Party!
One constant theme in this great book is the importance of accountability among all team members (and, guess what: all team members can and should be leaders!). Chief among the proven paths to success is communication: being honest about one's own failings, willing to correct others' actions, and striving to spur change through overt expectation setting.
When I think back to yesterday, I marvel at how much of that was happening naturally. Colleagues jumped to help one another with that perfect word, an appropriate response to a challenging question. They were taking ownership in the moment, and for the long-term.
That's not to say we've nailed this leadership, thing. But it is to say that around here,  speaking up is key to success.
Does that sound like the place you work?