Potential clients often ask if they can engage us for project work. And our answer is always "that depends."
It depends on a shared understanding of goals. For us, project work demands and deserves as much heart as we bring to long-term projects. Maybe more. The simple fact is we are pretty bad at doing anything half way.
We had the tremendous pleasure of spending our summer cheering on a 13-year old boy from Charleston as he pedaled from Santa Monica, CA to Sullivan's Island, SC to raise money for new wells to bring safe drinking water to other parts of the world.
We're always happy to lend our powers to others trying to make this world better. And our money's on Scotty Parker, the young man whose "heart hurt" thinking about other kids who died drinking unsafe water. Thanks to his effort, thousands of people will now count on safe water from new wells.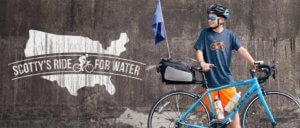 After 8 weeks, countless flat tires, and more than a dozen media interviews in towns big and small, Scotty and his team netted more than $580,000 in contributions. And the money continues to roll in.
Scotty's Ride for Water supported Water Mission International, a global non-profit based here.
This sort of project also reminds us that everybody brings unique gifts to each challenge. Our gifts come in the form of world-class publicists with tenacious, unbending hearts. They spent plenty of days (and evenings, and weekends) pitching, persuading and talking logistics with people all over the Southwest, Midwest and Southeast.
One of our many firm mottos is: "let's not ask how much we'll make, but rather, what difference we can make." Working with people like Scotty Parker inspires us to keep asking that question!