Resolve to take action in time for it to matter
The new year dawns, as it always does, full of hope and promise.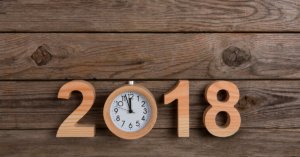 If the end of 2017 is any indication, we're looking forward to a vibrant 2018. But we don't think anything is guaranteed, so we push forward, daily, on numerous fronts. 
That's probably true for your business, too. You put your nose to that old grindstone on a daily basis, working toward goals, meeting them, and moving the finish line forward time after time.
Marketing tips for the new year 
In the spirit of new beginnings, we wanted to share a few marketing lessons of the past year, and welcome any you'd like to share:
Market when you've got a healthy business on your hands! We're seeing plenty of coverage in national media about the healthy global and national economies. Hurray! Sometimes, upward trajectories can be so comfortable we pull back on outreach efforts. That's always a mistake: market while you are healthy, and you'll be in a better position when things change. 
2. Marketing can't save the day if you wait too long to do too little. We are huge believers in the value of marketing promotion for just about any business. But we also know it takes time to make things happen. Sometimes, clients come to us very late in a downward cycle, hoping a new website or a few ads can fix what ails them. If that's you, level with your marketing partner, so they understand what sort of lifeline you're hanging onto.
3. There is no such thing as sudden stardom. PR, advertising, marketing, social media…they all take a bit of time to build toward your desired outcome. Don't expect that you can go from unknown to famous in three months. (Infamous, maybe. But that's not what we want to see happen!)
4. Choose a marketing partner with whom you can be really frank. Tell them what's happening with your business. Tell them how they are, or are not, satisfying your partnership needs. The best work happens when people are pulling together in a spirit of trust and cooperation.
And that's it, our Marketing Resolutions check list for 2018. Here's hoping you end this year in an even better place than you started it!