How do you sustain the momentum of a new product or service launch? You focus as hard on the marriage as you do the wedding!
That's the philosophy we bring to our work with Holy Spokes, the new Charleston bike share that launched in late May. As they prepared to announce a major milestone, we asked the community:
What do 4,700 buttery biscuits, 11,111 glasses of sweat tea and 2,000 pieces of pecan pie have in common? 
The answer is they each total one million calories, the same amount riders burned in just three months since Holy Spokes and Title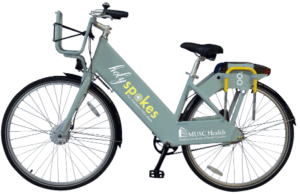 Partner MUSC Health challenged the community to do so within a year.
Since the launch, Holy Spokes has seen more than 10,000 bike rides traveling almost 25,000 miles – even crossing the Ravenel Bridge.
Touchpoint has helped fuel that success through PR and social influencer outreach that resulted in some great coverage and an ongoing effort to keep people biking.