We all know the proverb "it takes a village to raise a child" and the same can be said for certain PR campaigns.
While brainstorming ways to drive visitors to Summerville, S.C., all roads led to community involvement. And what better way to showcase this sweet, southern town than by inviting the community to help tell some of its story?
During our thought session, we discussed how in real estate, success comes from location, location, location. We applied that adage to Summerville's avian tourism push. Much of the town's activity links to its proximity to plentiful parks and world-class bird habitat, The National Audubon Society's Francis Beidler Forest.
Partnering with Summerville organizations and businesses with an interest in avian activity is what enabled us to transform what was once just an idea into a full-fledged campaign: #FlocktoSummerville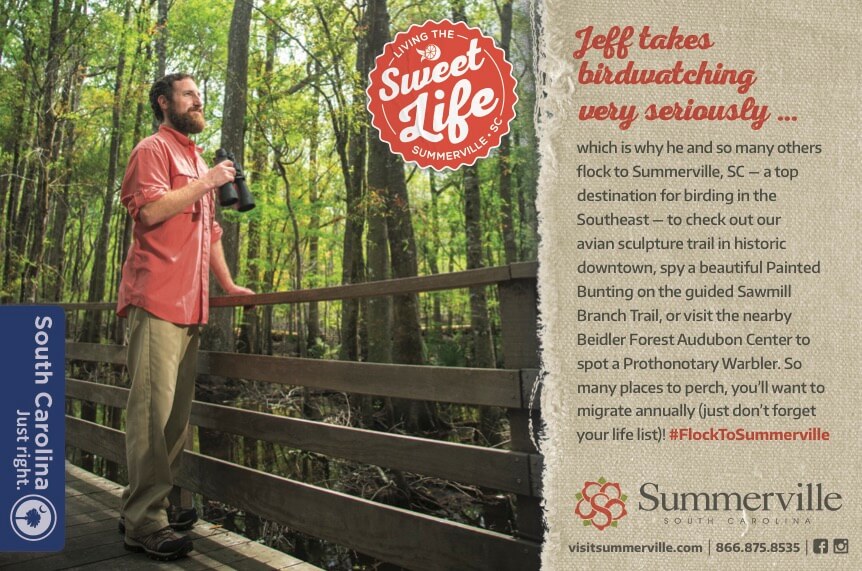 The original thought is only one (very small) piece of the puzzle
In the PR world, the success of a project is contingent on results, and efficient execution lays the groundwork. Projects with multiple moving parts can be complicated, but support from those with a shared goal is essential. And that's exactly what we got from the Summerville community!
As news of our campaign migrated to Summerville, we were excited to learn that people throughout Town were up to the task. We enlisted help from folks at the No. 5 birding destination in the country, Beidler Forest (as per this USA Today 10Best article).
Through those conversations, we discovered more ways we could promote Summerville's abundant aviary offerings. Some programs already existed but weren't heavily promoted. For others, we teamed up with business owners in other capacities to create bird-inspired programs to flesh out the campaign.
Town business participation bolsters Summerville birding campaign
Warbler Blend Coffee: Forest staff collaborated with local business Coastal Coffee Roasters to produce Warbler Blend coffee, exclusively sold at Beidler. All proceeds benefit Project PROTHO, a program that recruits citizen scientists to help Beidler learn more about the Prothonotary Warblers' breeding biology.
Downtown Summerville Guided Birding Walks: Beidler staff offer free walks in Summerville on Saturdays in the spring and fall.
Painted Buntings at Summerville's 7-mile Sawmill Branch Trail: Guided walks offer great birding locations; the trail is one of the best places in the area to see the beautiful Painted Bunting.
Night Flight Yoga: Strike an eagle or a crow pose! Night Flight Yoga happens in the Coastal Coffee Roasters warehouse twice a month during migration seasons. Participants offered beer flight after class.
Stretch Your Creative Wings: Sit and sip with family or friends while painting beautiful birds at Summerville's Wine & Design during migration seasons.
B.I.R.D.S. – Birds in Residence Downtown Summerville: Birders and art lovers appreciate the chance to catch a glimpse of the region's most recognizable birds in still form (sculpture) at 22 stations downtown.
Beidler Forest: This old-growth cypress-tupelo 16,000-acre environment with a 1.75-mile boardwalk is home to the warbler and numerous other bird species. The park provides a free boardwalk-specific app for iPhones to help guide your adventure.
Coordinate with team before any ideas leave the nest!
After all of this, we still wanted to increase the campaign's wingspan (hehe), so we tapped The Southern Weekend to shoot a video highlighting Summerville's outdoor offerings. 
As a team, Touchpointers seek to make connections whenever, wherever and between whomever we can. We love helping to shine a light on the amazing assets of our community client partners. Collaborating with so many folks in Summerville on this multi-tiered campaign is one such example!