"A problem is a chance for you to do your best." – Duke Ellington
We write this during a time of uncertainty. Weather predictions for our beautiful city range from mildly disconcerting to DefCon 4. And it will be days before we learn who was best at guessing (for, in the end, we suspect all those paths are best guesses).
Our city and adjacent towns feel pretty empty right now. And that's because our Governor took a decisive action, days before the storm, to encourage people to leave. She encouraged businesses to shut down so that their employees could take care of their families and lives. And a staggering number complied.
We are amazed by the spirit of the many clients we are proud to represent, each of whom put people first this week and elected to "shut it down."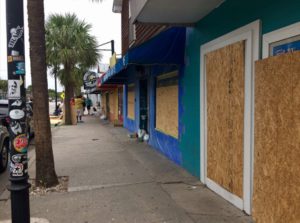 This is no minor act. For small businesses, a day or two – or five – of disrupted business has a big impact on their bottom lines. And yet, they locked their doors or boarded up their windows and walked away.
We've done the same, and have teammates scattered about, working remotely by laptops and cell phones. We have been touched beyond measure by the many offers from colleagues, friends and mere acquaintances to camp in their homes. Those generous invitations will not be forgotten.
Nobody knows what awaits us come Sunday, when most will make our way back home. Typically, the day after a hurricane is clear and sunny. Sometimes, it feels like a cruel joke as we survey devastation. Other times, it lends a celebratory air to the discovery that Mother Nature was kind, this time.
Whatever the result, we wanted to pause for a moment now to wish all our friends well, whether they are fixed on Matthew's path, or encountering other challenges today. Keep updated on the storm and stay safe!